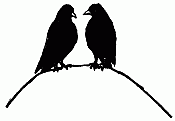 Two Little Blackbirds Sitting on a Wall
Two little blackbirds
Sitting on the wall,
One named Peter,
One named Paul.*
Fly away Peter,
Fly away Paul.
Come back Peter,
Come back Paul.
Notes
*Or "The other named Paul."

Here's a variation of this rhyme from The Little Mother Goose (1912):

There Were Two Blackbirds Sitting on a Hill

There were two blackbirds sitting on a hill,
One named Jack and the other named Jill.
Fly away, Jack, fly away, Jill.
Come again, Jack, come again, Jill.

Thanks to Lila for the recording!
Thanks and Acknowledgements
The illustration is from The Little Mother Goose (1912), illustrated by Jessie Willcox Smith.
Let us know what you think!
If you feel any comment below is inappropriate, please email us. Thanks!