"Au clair de la lune" is THE French children's song. It dates back to the 18th century.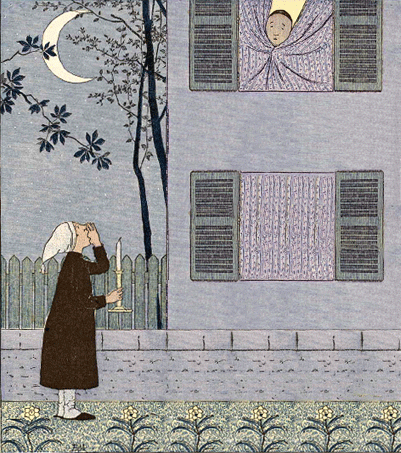 Au clair de la lune
Under the Moonlight
Chanson enfantine
Children's Song
Au clair de la lune
Mon ami Pierrot
Prête-moi ta plume
Pour écrire un mot
Ma chandelle est morte
Je n'ai plus de feu
Ouvre-moi ta porte
Pour l'amour de Dieu

Au clair de la lune
Pierrot répondit
Je n'ai pas de plume
Je suis dans mon lit
Va chez la voisine
Je crois qu'elle y est
Car dans sa cuisine
On bat le briquet

Au clair de la lune
L'aimable Lubin
Frappe chez la brune
Qui répond soudain
Qui frapp' de la sorte
Il dit à son tour
Ouvrez votre porte
Au dieu de l'amour

Au clair de la lune
On n'y voit qu'un peu
On chercha la plume
On chercha du feu
En cherchant d' la sorte
Je n' sais c' qu'on trouva
Mais je sais qu' la porte
Sur eux se ferma.
Under the moonlight:
"My friend Pierrot
Lend me your pen
So I can write a note.
My candle is out,
I no longer have a light.
Open your door for me,
For the love of God!"

Under the moonlight:
Pierrot replied,
"I don't have a pen,
I'm in my bed.
Go to the neighbor's house,
I believe she's there,
Because in her kitchen,
Someone lit a match."

Under the moonlight:
Kind Rubin
Knocks at the brunette's door.
All of a sudden she replies,
"Who's knocking like that?"
He says in turn,
"Open your door,
For the god of love."

Under the moonlight:
Only a little can be seen,
The pen was looked for
A light was looked for,
Searching like this
I don't know what was found,
But I do know that the door
Was closed on them.
Notes
"Au clair de la lune" is by an anonymous author. The common attribution of the music to Lully has been discounted. Therefore, it's considered as being fully anonymous.

It dates back to the 18th century (for lack of any reliable sources that state differently). It first appeared in print in "Chansons nationales et populaires de France" by Théophile Marion Dumersan in 1846.

There's a recording of the 2nd verse that goes back to 1860 and is the oldest known recording of the human voice.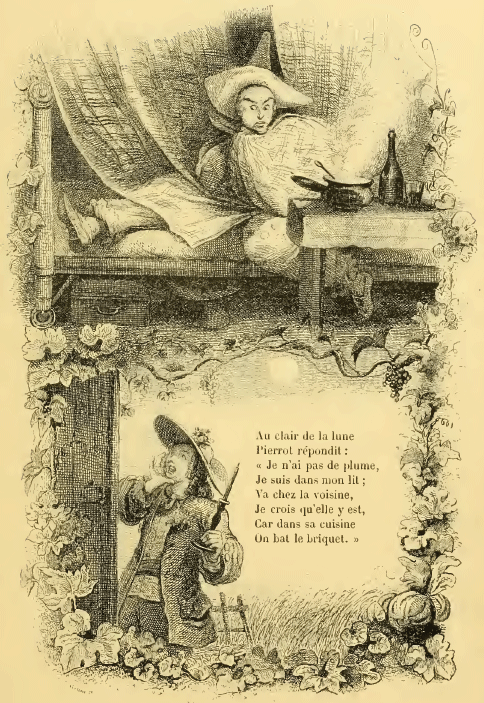 Many thanks to Tiphaine Woerth for recording this song for Mama Lisa's World!
This recording of the beginning of the 2nd verse (Au clair de la lune, Pierrot répondit, 'Je n'ai pas…) dates back to 1860 and is the oldest known recording of the human voice.
This song was sung and recorded on paper with a phonautograph in 1860 by Édouard-Léon Scott de Martinville. It was converted back to sound in 2008 by David Giovannoni's team at First Sounds. Recording is cc - learn more on Wikimedia here.
Sheet Music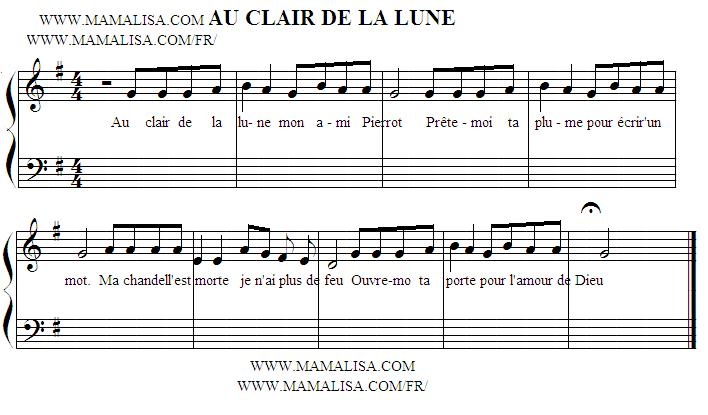 Thanks and Acknowledgements
Many thanks to Elena for contributing the 1st two verses of this song and to Monique Palomares for contributing the missing verses and creating the midi music. Translation by Lisa Yannucci and Monique Palomares.

Illustration by Louis-Maurice Boutet de Monvel (1851-1913) from Vieilles Chansons pour les Petits Enfants: Avec Accompagnements / de Ch. M. Widor (1844 - 1937); Illustrations par M.B. de Monvel. Paris: E. Plon, Nourrit et Cie, [1883]. The image was graphically edited by Lisa Yannucci.

The 2nd illustration is from Chansons et rondes enfantines (1871) with a little graphical editing by Lisa Yannucci.

Merci beaucoup !
Let us know what you think!
If you feel any comment below is inappropriate, please email us. Thanks!